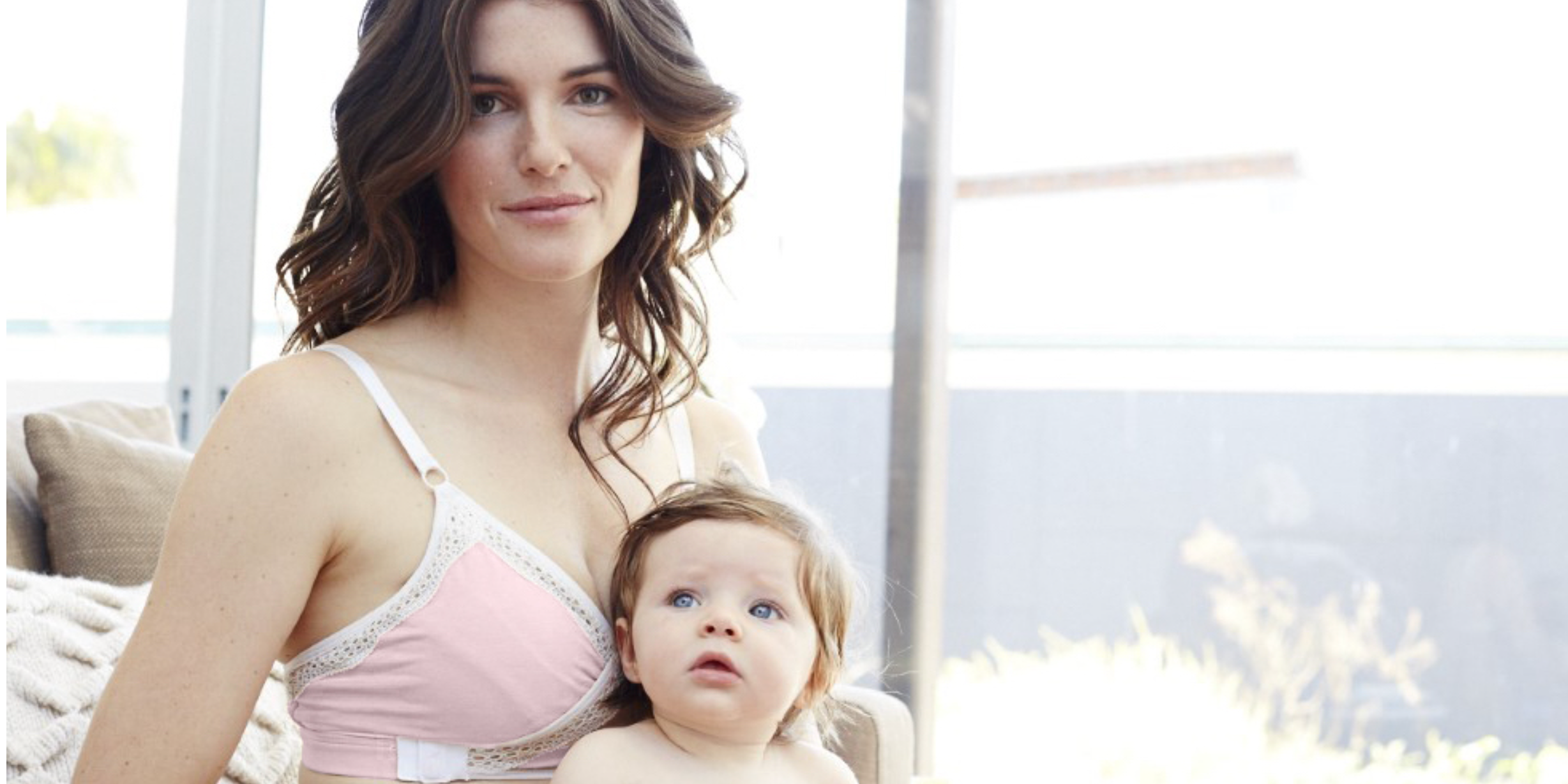 Since we all know where babies come from, let's skip to some of the other frequently asked questions - and their answers.
FIT RELATED QUESTIONS
I'm expecting and I already, can't fit into my pre-pregnancy bras. How do I determine what size to buy?

Just like no two apples are alike, no two pregnancies are alike. The truth is: it's hard to predict *exactly* what size you'll end up.  That said, we typically see a mom's breast size (pre-pregnancy to postpartum) increasing by one band size (the number) and and two cup sizes (the letters). For example: if mama's un-pregnant bra size is a 36DD, it's likely that she'll end up being a 38DDD/G postpartum. This is why we recommend that expectant moms hold off on wearing their bras until after baby has arrived and their bodies have adjusted.
Should my bra feel tight when I first purchase it?

General bra-buying guidelines: when you purchase a new bra, the cups should fit perfectly. The band should be closed on the loosest hook - to provide room to tighten.   Our nursing bras feature an extended hook-and-eye closure that will accommodate for your extended ribcage during pregnancy and immediately postpartum: this will give you 4 inches of adjustability in the closure. You should never have your brand-new bra closed on the tightest settings - that gives you zero wiggle room. You deserve that wiggle room.     The new-bra cup should fit well; our bras are breathable and stretchy to accommodate constant size changes (whether you are drained or engorged).
I have a narrow band but larger breasts and can't find a bra that fits. Help a mama out?

You've come to the right place. The Dairy Fairy offers our Petite Plus (PP) and Petite Plus Plus (PP+) sizes, which are intended exactly for those proportions.     Unsure if Petite Plus is for you? If your band size (the number) falls anywhere between a 32 and 36 *and* your cup size (the letters) is DD/G/H or even J, this line is perfect for you. For example: the PP+ in the Pippa can suit a size 36H/J body.
I love (nay, need) underwire, but I've been told to avoid it as it can cause mastits. Will that be a problem with The Dairy Fairy bras?

First of all, we totally get that love - underwire can be amazing source of support and *lift*.  When it comes to mastitis, underwire itself is actually not the culprit. So, what is to blame? A bad fit.     Underwire is rigid: it has to sit at precisely the right place around the breast area to ensure there's no poking or pushing on the breast tissue (the main concern for mastitis). Our styles that feature underwire use a demi-underwire - it wraps just around the outer part of the cup, not entirely around the breast, making a "U" shape. This makes each style a more flexible to fit.     That said, the placement of the wire on our styles is based on the most common proportions. Therefore, we do not recommend our underwire styles if your proportions are such that your band-to-bust ratio falls outside our sizing guide. For example: a 38B size would not get a good fit from a style with underwire. But, never fear! We have plenty of gorgeous, supportive styles without underwire.
According to your sizing, I need different sizes for different bra styles. Why is that?

We have two different sizing ranges - one for our structured styles and another for our soft styles.     The structured style features demi-underwire and provides a little more lift. The soft styles are essentially bralettes, in that they are less rigid and offer much more flexibility in sizing (without losing much in support).    Since these styles are crafted differently, they do offer very distinct fits... think of the two styles as skinny jeans and mom jeans. The same size can give a very different fit - therefore, we recommend using the conversion and sizing that is specific to the style you are considering, instead of just assuming you would be the same size regardless. Always a good idea to double check your work!
Ordering, receiving and enjoying your goodies from the Fairy.
ORDER RELATED QUESTIONS
Can I pay using my FSA/HSA account?

Nursing and pumping bras are eligible for use with flexible spending account (FSA), health savings account (HSA) or a health reimbursement arrangement (HRA). 

What type of products are considered eligible?

Nursing Pads, Nursing and Nipple Balms, Nursing and Pumping Bras, lactation support and more.

*Check with your plan administrator to make sure your policy or plan covers these products, and search your provider's website for how to file a claim.  Reach out to your plan administrator prior to purchasing with any questions or concerns you may have. 
I want my order now, now, now - what are my shipping options?

We get it - we all love instent gratification.

Our shipping options are weight based;

- Domesitc Orders that are under 1LB are shipped via USPS First Class, which can take 2-5 business days in transit. There is an option to select expedited shipping for an additional fee.

- Domestic orders that are over 1LB are shipped via USPS Priority.

- Orders over $100 qualify for free shipping.

- International orders will be quoted once the address is input. Duties are not included in the quoted rate.
Do you ship internationally?

We believe moms ALL OVER THE LAND, deserve supportive and functional bras.

We are able to ship to any country served by UPS. Rates will be displayed at checkout, once you enter your address.
How do I care for my new bra?

So, we recommend that you machine wash in cold water in a lingerie bag.  Make sure that all hooks are closed so they don't catch on the lace. You may hang dry or dry flat. Please never bleach or iron your lingerie.
Sad face; your bras didn't work out for me, what now?

Oh the sorrow. We feel your pain.

Returned items that are unworn, unwashed and in new condition, will be refunded to the original method of payment used.

Our full exchange and returns policy can be found here.